Experience True Luxury in The Best Boutique Hotels in Dhaka
There are many reasons people seek boutique hotels when they are planning a stay in Dhaka city for short visits. Mostly because of the personalized services they provide, the attention to the design they put in each area is a major case.
Hence, want to stay in a luxury hotel in Dhaka for a couple of days, but do not know the best boutique hotels in Dhaka? To narrow down your selection process, we are here with the best suggestions in Dhaka City.
Let's get started.
Top 5 Best Luxury Boutique Hotels in Dhaka City
Boutique hotels offer all the modern amenities with the facilities you need onboard. This category of hotels is well known for their eye-pleasing decoration and for the quality services they provide.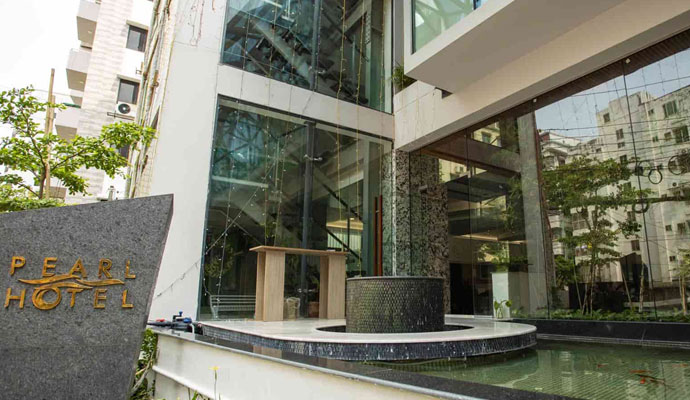 If you are looking for the best boutique hotel in Dhaka city at standard pricing, Pearl can be your destination. There are a lot of good reasons for having this hotel at the top of our list.
They offer very well decorated 4 categories of rooms and suites – Premier Twin, Junior Suite, Premier queen, and Deluxe King.
And if we talk about facilities, you will get a Coffee shop, Restaurant, and one rooftop restaurant. Also, there is a spa and gym for taking care of your health and skin.
For a business visit, there is the facility of a conference room, business center, and a private lounge. All of these you are getting at a reasonable price.
And the customer rating tells a lot about their service, which is 4.5 on different rating platforms rated by the netizens.
Map: Location
Pricing: Starts at 72$ / 6850 BDT Per Night (Approximate)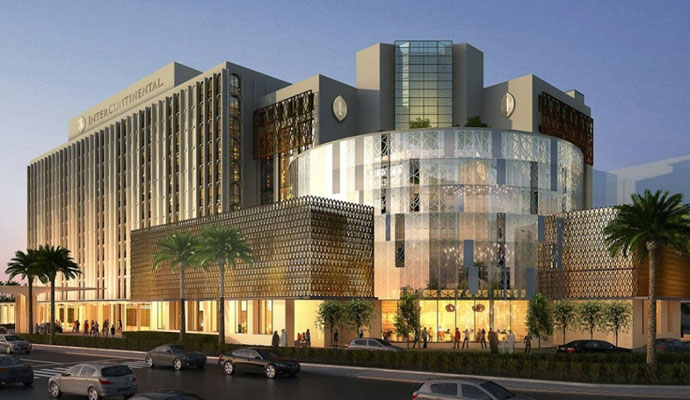 The Intercontinental is a famous name in the capital. It is one of the most prestigious luxury hotels in Dhaka.
Decoration of the rooms, lobbies and even the corridor is unique and eye-pleasing. Even the building itself is a representation of the modern architectural beauty from the outside.
All staff and employees in a InterContinental Dhaka speak two languages. Therefore, foreign tourists will have no hassle in dealing with services.
Map: Location
Pricing: Starts at 155$ / 14530 BDT Per Night (Approximate)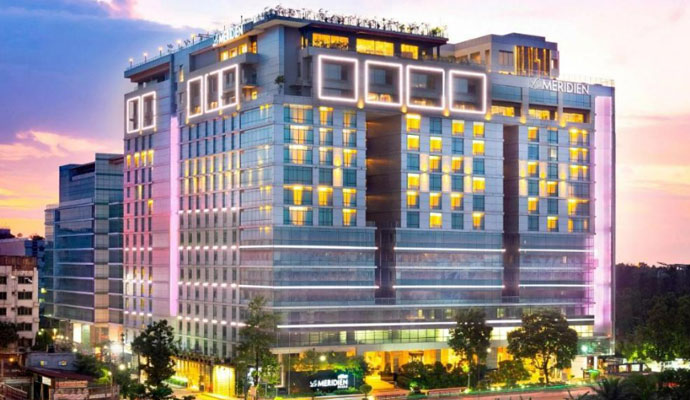 Le Meridian is one of the most stylish hotels in Dhaka. They offer all sorts of rooms and suits you may require.
The inside environment is very clean with a sleek and modern design. There is enough facility for conferences, corporate meetings, and weddings. Le Méridien has a very standard Gym and Spa. And you get to have each meal from the best hands in Bangladesh in their restaurant.
Map: Location
Pricing: Starts at 315$ / 29950 BDT Per Night (Approximate)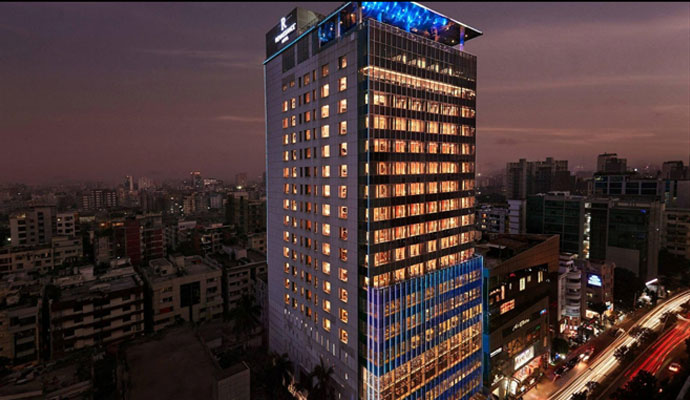 Renaissance is the 5-star category inside Dhaka. This luxury hotel is located in Gulshan, which is the most dynamic and vibrant area of the capital.
You get all the modern amenities: Gift shop, Spa, Daily room service, outdoor pool, laundry, wake-up calls, meeting space, restaurants, and dry-cleaning service.
They offer all the facilities a customer may ask for, with a rating of 4.5 stars.
It is definitely among the best. The quality they provide is on the international standard. And you must get satisfied with a visit to Renaissance.
Map: Location
Pricing: Starts at 245$ / 23400 BDT Per Night (Approximate)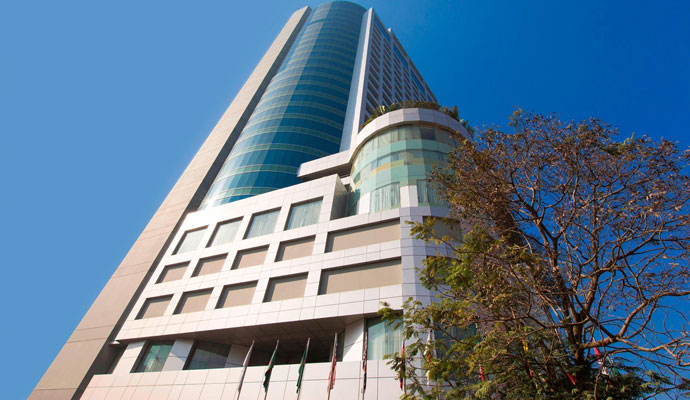 From Westin Dhaka, you get to enjoy the city view with the premium services onboard.
Westin offers all the premium services, starting from food to the rooms and suits. Staff and employees are skilled enough for handling tourists from foreign countries. They believe in the quality of each service they provide.
Then again, Westing is equipped with all the facilities a luxury hotel should have. For its quality services, it has become a well-known destination among tourists or business owners traveling to Bangladesh.
Apart from all of the above, they offer some seasonal food-centered occasions, which is a great initiative to practice the culture.
Map: Location
Pricing: Starts from 236 USD / 22500 BDT Per Night (Approximate)
Luxury Boutique Hotels in Dhaka Bangladesh
Most luxury boutique hotels are pricey as they put more focus on the premium design and quality services they offer to the customers.
The best boutique hotels in Dhaka come with the best accommodations at a hefty price.
But, you can get all the luxury experiences by staying at Pearl Hotel. We offer all the modern amenities of a luxury boutique at a reasonable price tag. Feel free to visit and experience the quality.
Frequently Asked Questions
List of few questions that you might ask about Boutique Hotels in Dhaka.
4- and 5-star standard luxury hotels in Dhaka usually cost 105$ per night. Price varies according to the discounts and demand.
The InterContinental Dhaka, The Westin Dhaka, and Renaissance are considered as the best boutique restaurants in Dhaka, Bangladesh.